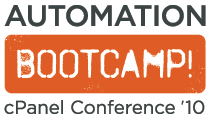 I'm excited to announce that this year I will be speaking at the cPanel conference, so if you haven't yet registered, make sure you do it soon! The conference will be held in cPanel's hometown of Houston, TX at the Westin Oaks Hotel between Oct 4-6,2010.
My topic specifically will be covering full server automation from start to finish, essentially showing you how to deploy fully-configured cPanel servers with even touching a bash prompt. You'll learn where cPanel stores it configuration files, how to configure services using cPanel's service templates, and what scripts will save you time by automating simple tasks.
Hope to see everyone there!